It will be a busy couple of days in the dojo.
6:30pm Friday night class – advanced kids (green belt and up) and Adults
Regular Adult and Kids classes will be held Saturday morning
Special Short Session Kids Workout with Danjo Sensei – ALL KIDS 2pm
Special Adult Class with Danjo Sensei 2:40pm
No Class (Saturday, Monday or Tuesday) July 1st, 3rd and 4th
No 11am Class on Thursday, June 29th
5/24/23
BOARD BREAKING 6pm
THE DOJO WILL BE CLOSED APRIL 8th for EASTER WEEKEND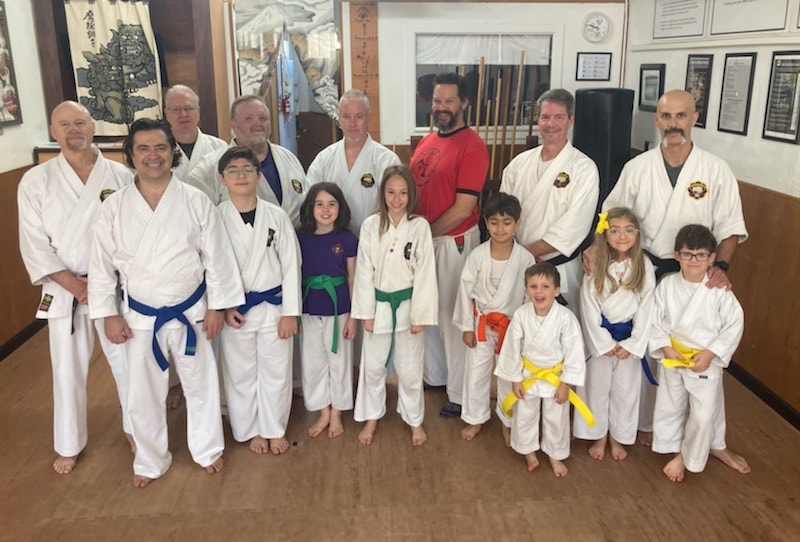 Reminder that the dojo is closed tomorrow and Monday for the Labor Day weekend. Please have a safe and enjoyable weekend
REMINDER: We are closed for Memorial Day Weekend. No classes Saturday May 28th or Monday May 30th. Please have a safe holiday weekend.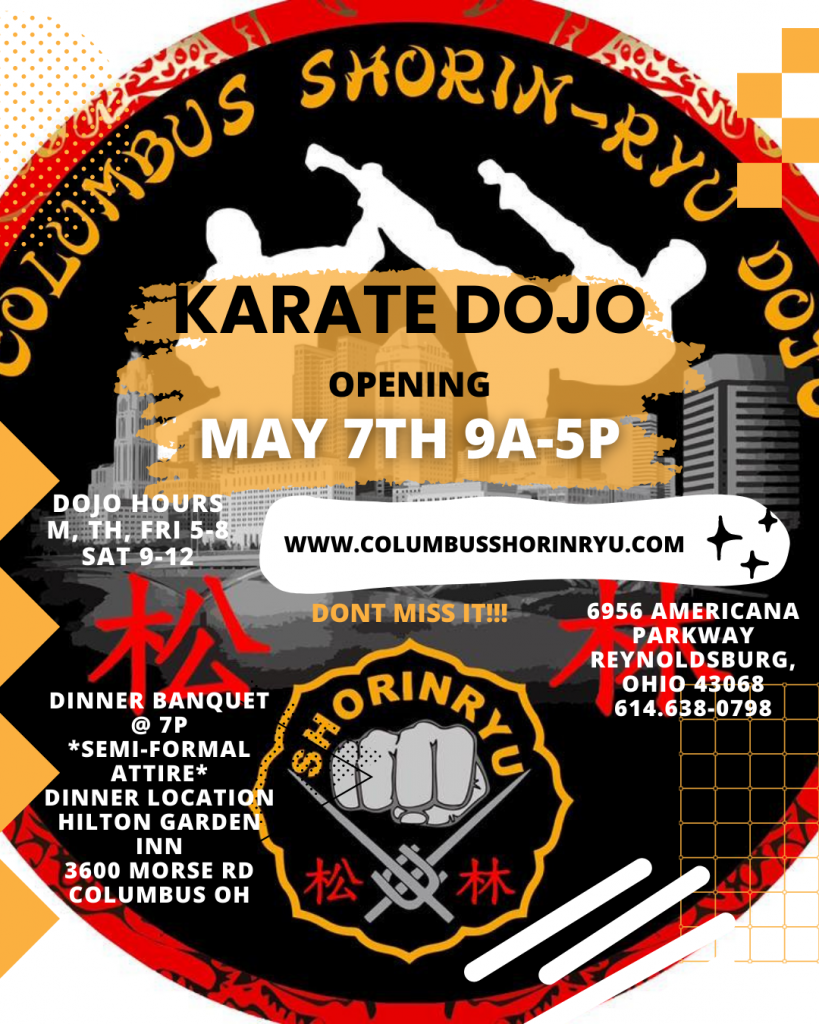 Reminder:
This Saturday (April 16th) the dojo is Closed for Easter Weekend
Saturday (April 23rd) is a special training in honor of Soke Nagamine
This is the 10-year anniversary of his passing.
All students are invited to attend.
The training will begin at 9:00am and ends at 11:00am
No cost
2-5-22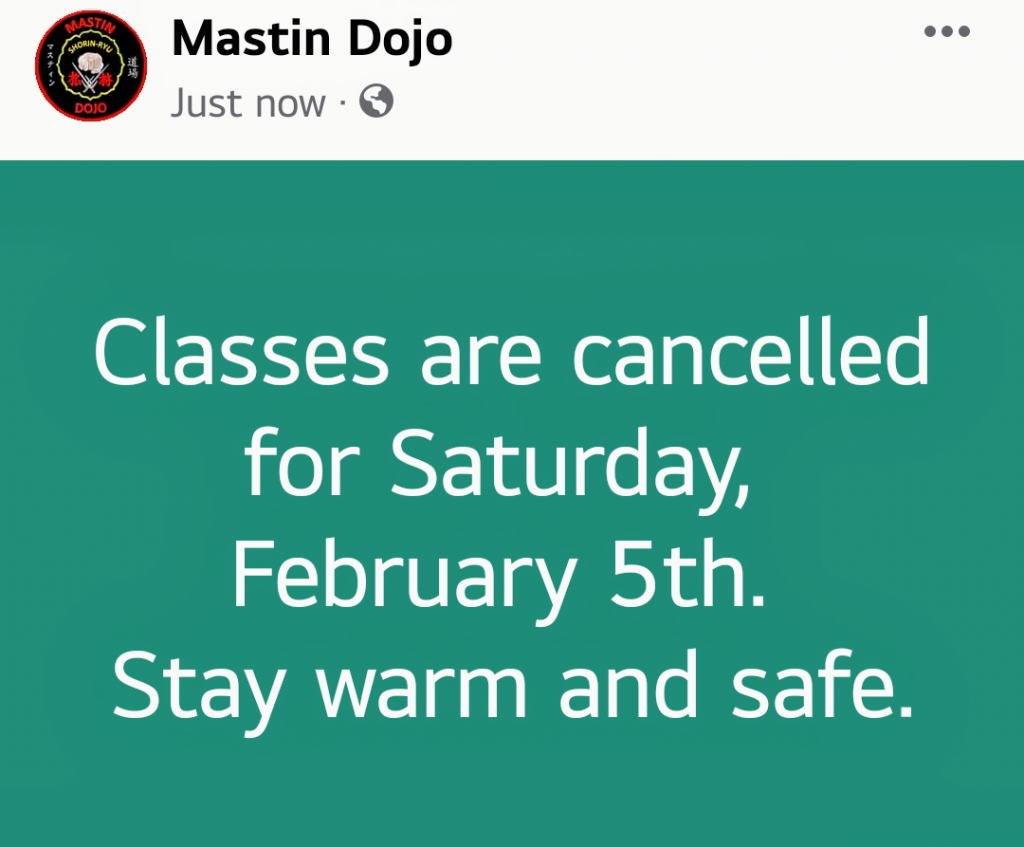 2-3-22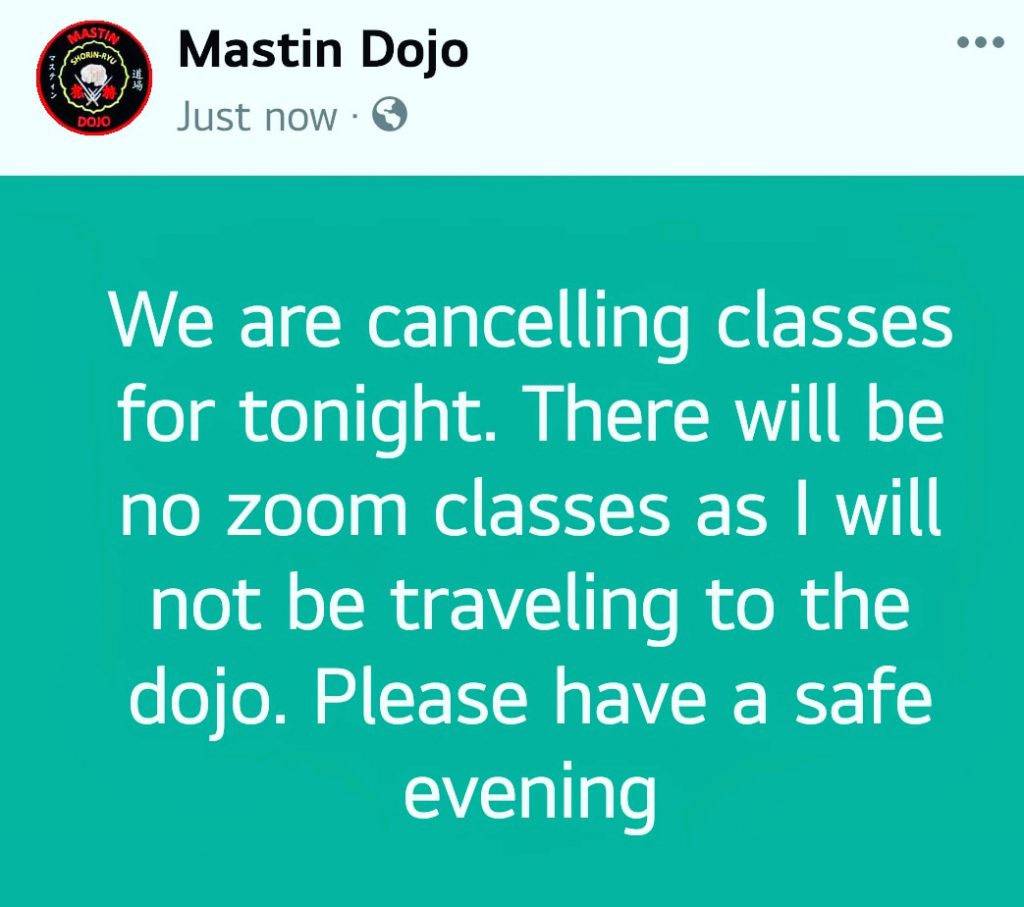 ARE YOU LOOKING FOR A CLASS TO HELP YOUR 4, 5 OR 6 YEAR OLD? COMING IN SATURDAY, JULY 31st @ 10:25am
BOARD BREAKING – WEDNESDAY, JULY 29th @ 6:00pm
THE DOJO IS CLOSED JULY 3rd and JULY 5th
Please bring your sparring equipment to class beginning June 1st, 2021
The dojo is closed May 29th (SATURDAY) and May 31st (MONDAY)
January 4th, 2021 classes at the dojo will resume.
The last day of training for 2020 is Monday December 21st.
The dojo will be closed from December 22nd – January 3rd, 2021. There will be no classed at the dojo or on zoom during the winter break.
The dojo is closed for the Thanksgiving Holiday. Wednesday 11/25/20 – Saturday 11/28/20.
Classes resume 11/30/20.
I would like to thank everyone for all of their support and kind words.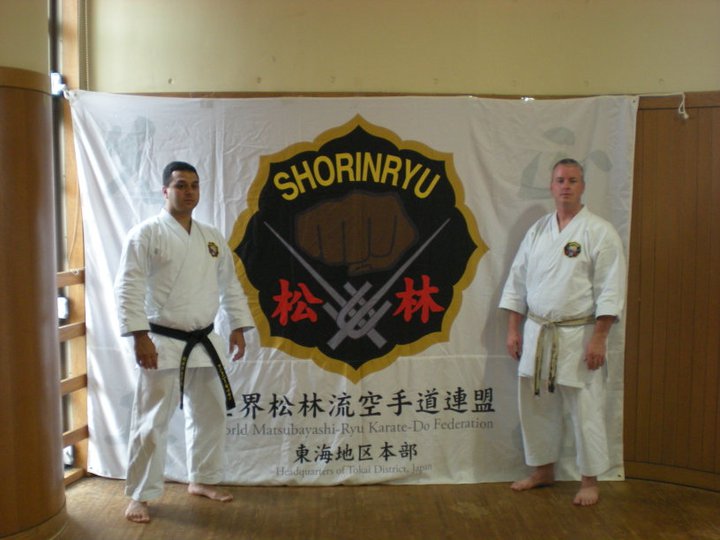 Classes Resume June 1st with a new temporary schedule.
3-23-20
The dojo is closed until at least May 1st due to the coronavirus. Please continue to train at home during this time period. We will be updating our Facebook fan page, YouTube page and Instagram page. Please like and follow for updated information.
3/16/20
We have been at the dojo for the past 2 Sundays working on various things. Yesterday before we left, we sanitized the entire dojo. After speaking with many of the students we will be closing down for this week. I will update this page and our website throughout the week. So as of now, our classes might resume next Monday evening (March 23rd) depending on the situation and how everything unfolds. We might offer some online classes or live stream some classes for those of you that may be interested?
Lastly, to help the dojo and others, we will be offering gift certificates for tuition or merchandise.
If you have any questions please reach out.
I hope everyone stays safe. Take this time to study your books or practice your kata.
Sensei Mastin will be teaching in Belleville, Illinois February 28th and 29th.
Tai Chi is coming to the Mastin Dojo.
January 6th, 2020



New Merchandise has arrived
See the flyer in the dojo about the new challenges.
We were recently recognized by an independent website for being one of the area top Martial Arts Schools.
https://www.expertise.com/oh/cincinnati/karate-taekwondo-martial-arts
April 27th – Please join us for a special training to remember my Sensei.
Soke Nagamine Special Training 8:30am – 10:30am
The dojo will be closed April 20th
April 15th – Leadership Class 6:00pm
All students are encouraged to participate. Please bring a notebook
Join us March 30th for the 100 Kata Kobudo challenge
Classes are cancelled for Wednesday January 30th.
I appreciate everyone that attended the dojo meeting. Please turn the surveys in when possible.
DOJO MEETING 1-12-19 10:45am

Mastin Sensei to set teach in Canada January 6th
January 2nd 2019 is the 1st day of training for the new year.
We will have an all dojo meeting January 12th at 10:45am. All students and parents of students please try to attend. (this was originally scheduled for the 5th)
Last day of training for 2018 is Thursday, December 20th
Black Belt class is Monday December 17th from 6:00 to 8:15pm
It is a special time in a teachers life when he can promote a deserving individual. Congratulations on your promotion to the rank of NiDan Jeff

We will be begin taking our final orders for the end of year sale. Deadline is December 8th. If you would like to order a T-shirt, Sweatshirt, karate Gi (uniform) or any other supplies please see Mrs. Patricia, Miss Katie or Sensei. We also have gift certificates available for classes. Give someone special the gift of karate this season.
Reminder: Thanksgiving class schedule. We have class Tuesday, November 20th. No classes on the 21st, 22nd or Saturday the 24th. Please enjoy your Thanksgiving break and reflect on all of the blessings in your life. I am thankful for each and every person that follows our page and supports our dojo.

Congratulations to those student that successfully complete the promotion test on Saturday, November 17th.

The dojo is closed October 31st. Please have a safe and Happy Halloween.

October 25th 100 Kata challenge
No Classes on Saturday, September 1st 2018
Summer Schedule begins May 12th. No Monday classes
New Class Summer Schedule Effective May 12th
The Dojo will be closed May 26th and May 28th
Saturday morning class times change May 12th.
Adults 8:30am – 9:40am
Kids 9:45am-10:30am
Ninjas 10:35am-11:15am
I apologize for the last minute information. The dojo is 34 degrees with a frozen toilet. We will not have class Tuesday night.
Classes for tonight (Monday, January 15th )are cancelled.
Classes for tomorrow (Saturday January 13th) are cancelled due to the snowfall. Your safety always comes first. We do have class on Monday. Have a safe weekend.
Blackbelt Review is November 18th from 11:15am-1:15pm
October 25th @5:30pm we will be participating in the Karate Day 100 Kata Challenge. No regular classes will be held this night. Please sign up if you plan on attending.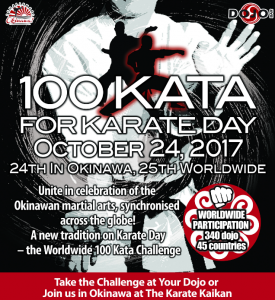 Make Up belt test is July 29th at 11:15am
The DOJO IS CLOSED MONDAY JULY 3rd and TUESDAY July 4th. Please have a safe Holiday weekend
No Adult class or Little Ninja on July 1st as we have a special training session with Danjo Sensei at 10:15am
Please Join us on June 30th at 6:15pm and Saturday on July 1st at 10:15am for special training sessions taught by Danjo Sensei from Japan.
Reminder: the Dojo is closed Saturday May 27th and Monday May 29th in honor of Memorial Day.
NEW SCHEDULE BEGINNING JULY 15th
New Class Schedule begins July 15th
Extreme Class begins Wednesday May 31st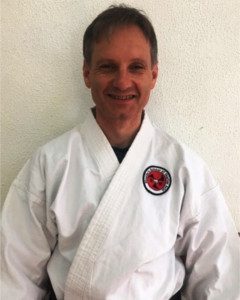 Congratulations to Nick Iredale on his promotion to Shodan

Congratulations to those that successfully passed the Blackbelt promotion test in February.
Will Gossard : Jr. Shodan
Noah Breitenbecher : Shodan
Jason Williams : Shodan
Lora Wert: Sandan
1/23/17
Join us this evening from 6:30pm – 8:00pm for a special training session to be held in remembrance of Sensei Dave Williams.
1/5/2017
Tonight was going to be our first Thursday night class in years. But due to the snow, there will be no classes tonight. See you Saturday. Please be safe
Happy New Year
First Day of training is January 3rd 2017
Reminder that a new schedule begins with a change in the Tuesday Night Class times and an addition of a Thursday Class.
The Halloween Dodge Ball Party has been cancelled.
Congratulations to Tom Giordano and Jeff Reasoner as they were promoted to Sho Dan


We are honored to have a special guest instructor.
Sensei Yuichi Danjo, Kyoshi, 7th dan
from the Kodokan Osaka Dojo in Japan
NO ADULT MORNING CLASS. We do have Little Ninja and Kids Class.
All Adult karate students and Junior (kids Green Belt and above) karate students may attend this special training event.
Special Class begins at 2:00pm
Just a reminder: The Dojo is closed on Saturday- July 2nd and Monday-July 4th Please have a safe Holiday Weekend
Just a reminder: The Dojo is closed on Saturday- May 28th and Monday-May 30th Please have a safe Holiday Weekend

Congratulations on all of those that were promoted in February
Classes will resume on January 4th 2016
Last Day of training for 2015 is December the 19th.
August 29th
New Day Class Begins August 5th
On June 24th,
Katelynn, Lora and Tyrone represented our dojo to honor Sensei Sonny Kim. I am grateful to have known such an amazing man.
After the training, Katelynn had the honor to take a picture with Sensei Nishime. It was very special for her because she tested for her first kyu rank with him more than 18 years ago.
I was in Canada and received this picture of the 2 of them. I was happy to see that he is healthy and I am very grateful for the hard training that he gave me in the early days.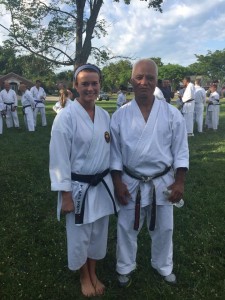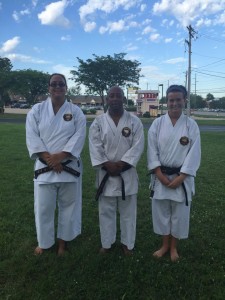 Remembering Sensei Mitchell 5/30/15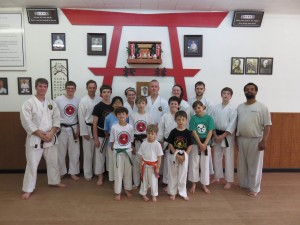 Reminder: The dojo is closed on Saturday (May 23rd) and Monday (May 25th) for the Memorial Day Holiday. Please have a safe weekend as we reflect on the memory of those that have given the ultimate sacrifice.
March 4th
For your safety,
Classes for tonight are cancelled due to the winter storm that is moving in.
See you Saturday!
2/21/15
Classes are cancelled today due to the snow.
2/16/15
Classes are cancelled tonight due to the snow
We celebrated the memory of Sensei Dave Williams on January 28th.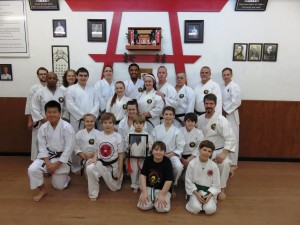 11/17/14 : Classes are cancelled for this evening!
Click on the link above to find out about the 100 Kata Challenge.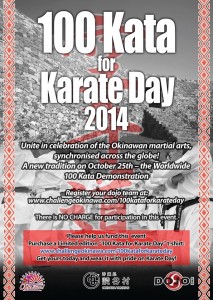 REMINDER : JUNE 16th – 20th is KARATE CAMP
6/14/14
We will be honoring Sensei John Mitchell with a special training session today from 9-12. He will always be remembered for his hard work and loyalty.
6/7/14
Congratulations to Mr. (Sempai) Bill Wands and Mrs. Barbaretta Perdue on their marriage. It was a special day. Thank you for letting us be a part of it.
Coming in June: YOGA @ the Dojo
1-28-14 Due to the overwhelming emails, calls and peer pressures about people having to go out in the extreme cold, classes are cancelled for tonight. (Tuesday 1/28) Stay home, be safe and practice your Kata.
Reminder: 1-23-14 Special training session in honor of Sensei Dave Williams.
All students are invited. Session will begin at 6:00 pm.
1/19/14
The dojo is closed due to the weather. Please be safe.
This news was given to us when we were in Okinawa back in October.
Yes, It was a true honor to be able to be able to visit this historical site. Bunshiro has to go away to teach Elementary School and is not able to remain at the honbu during this time period. The Dojo is owned by the Nagamine family but the land that the dojo sits on is owned by someone else. If there is no Nagamine Family member that is teaching and training in the building, it nullifies the agreement. The landowner wants to build condos since the dojo sits one block off of the most popular street in Okinawa. We all should feel fortunate to have been able to train and teach in a building that has such close ties to the origins of karate. It is hard to believe that the government would not register this as a true historical landmark since it is one of the oldest dojos in Okinawa.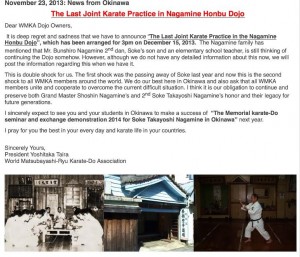 Reminder: We have class tonight Tuesday Night 11/26/13.
No class on Wednesday 11/27/13 or Saturday 11/30/13
November 9th @ 11:30am – Okinawa Trip Recap.
We will be show video and pictures from our recent trip to Okinawa. We will also begin planning for our 2014 Trip and demonstration
Mark your calendars.
****News Post: September 21, 2013
"The Funeral Karate-Do Seminar and Exchange Demonstration 2014
for Soke Takayoshi Nagamine in Okinawa"
Dear WMKA members,
It has been a year and a half since the passing away of Soke Takayoshi Nagamine last year. No one or anything can fill his vacancy and we are still in mourning for his loss. But we have to move forward to admire his honor and legacy.
Though the Okinawa headquarters had been halted after passing away of Soke, we were able to restart with your support and cooperation. Unfortunately, we had postponed Soke's original schedule of " World Matsubayashi-Ryu karate-Do Seminar 2013 in Okinawa . However, we have decided to open "The Funeral Karate-Do Seminar and Exchange Demonstration 2014 for Soke Takayoshi Nagamine in Okinawa".
The venues will be at the "Rensei Dojo" inside the Okinawa Prefectural Hall of Martial Arts where we held the Karate-Do Seminar during
" The Ceremony of the 75th Foundation Anniversary of World Matsubayashi-Ryu Karate-Do & the 13th Memorial Karate-Do Demonstration for Grand Master Shoshin Nagamine" in November 2010.
Please refer to the tentative schedule below and contents of the events in this announcement.
We will post the final schedule and the contents of the events later, because we can only reserve the venues after December 1, 2013. However, it is decided to open the events during first week in November 2014 .
The Tentative schedule of the events are :
1. Title of the Event: "The Funeral Karate-Do Seminar and Exchange Demonstration 2014 for Soke Takayoshi Nagamine in Okinawa".
2. Date and Contents of the Events : From October 31st to November 2nd ( 3-Day Seminar)
| | | |
| --- | --- | --- |
| Date (Week) | Time | Contents |
| October 31 (Fri) | 10:00 to 16:00 | Karate-Do Seminar |
| | 17:00 to 19:00 | Dojo Owners Meeting |
| November 1 (Sat) | 10:00 to 16:00 | Karate-Do Seminar |
| November 2 (Sun) | 09:00 to 12:00 | Dan Promotion Test |
| | 14:00 to 17: 00 | Exchange Demonstration |
| | 18:00 to 21:00 | Exchange Party |
3. Venues : Okinawa Prefectural Hall of Martial Arts / Rensei Dojo 2nd Floor
We sincerely expect that all WMKA members will be aware of the events and consider your schedule next year for coming to Okinawa in November 2014.
We give our best regards from Okinawa to everyone around the world wherever you live.
Sincerely Yours,
President Yoshitaka Taira
World Matsubayashi-Ryu karare-Do Association
October 8th – 23rd condensed schedule.
Please make note of special day and class time changes.
Thank you for your understanding and support.
It is important that Sensei Mastin travels to Okinawa.
Monday (October 14th & 21st) Combined Ninja /Jr. Class 6:30pm & Adults 7:20pm
Tuesday (October 8th, 15th and 22nd) NO CLASS
Wednesday (October 9th, 16th & 23rd) Jr. Class 6:30pm & Adults 7:20pm
Saturday Classes will be held at the regular times.
As of 9/20/13 Thursday night classes are being postponed until further notice
SILVERTON CLASS SCHEDULE 9-20-13
Karate Camp
June 9th- 14th from 9:00am -noon for ages 5 and up
In honor of Sensei Mitchell's Birthday, we will be remembering him with a special training session on Saturday June 1st.
The training session will begin at 9:00am and conclude at 12:00pm. There will be no regular classes.
All students are invited and encouraged to participate in honoring Sensei John Mitchell and his memory.
We would like to congratulate Jeff Reasoner for his hard work and dedication.

Jeff had the highest point total for the first 3 challenges of 2013 in the adult ranks.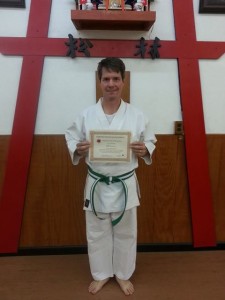 I am very grateful for all of the help and support that we received on our "Dojo Cleanup Day"
Thank you!!!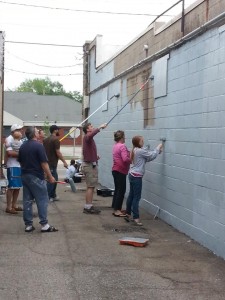 Reminder that the dojo is closed on Memorial Day Weekend. No classes on Saturday May 25th or Monday May 27th.
May 25th, we are going to cleaning and remodeling the dojo. All are welcome to help. We will meet at the dojo @ 9:00am
February 22nd:

Blackbelt seminar will be postponed. We will reschedule for March.
February 20th :

New schedule and classroom format begins.
Saturday we paid respects to Sensei Dave Williams.
Thank you to all that join us in this training session.
January 26th 12:00pm-3:00…. We will host the Dave Williams Memorial Training. All students are encouraged to attend.
. During the seminar, we will have a nutrition expert and strength coach educate us on the correct way to better our bodies through diet and exercise.
♦Creating Complete Individuals , Change by Challenges began Saturday January 5th